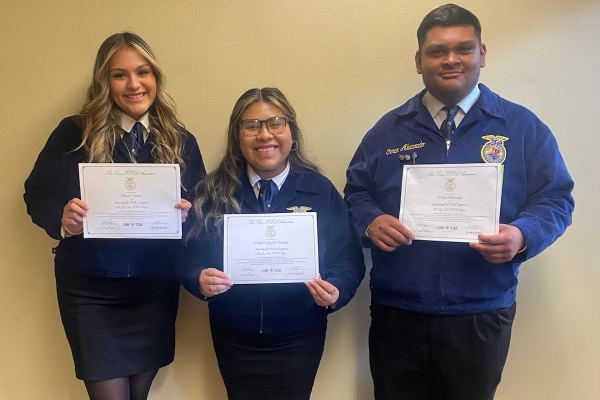 Career & Technical Education (CTE)
Career and technical education programs offer a sequence of courses that provides students with coherent and rigorous content. CTE content is aligned with challenging academic standards and relevant technical knowledge and skills needed to prepare students for further education and careers in current or emerging professions. We hope the links and information below can assist you in your career adventure. Do not hesitate to contact us if you have questions and or concerns. Go Mavs!
CTE Public Notification of Non-Discrimination
Marshall Independent School District (MISD) offers Career and Technical Education (CTE) programs in Agriculture, Food, and Natural Resources; Arts, Audio/Video Technology, and Communications; Business, Marketing, and Finance; Education and Training; Health Science; Hospitality and Tourism; Law and Public Safety; Manufacturing; Science, Technology, Engineering and Mathematics (STEM); and Transportation, Distribution, and Logistics. Admission to these CTE programs is based on students' career interests, aptitude, and availability of class space.
Marshall ISD does not discriminate on the basis of race, color, national origin, sex or disability in its programs, services or activities and provides equal access to the Boy Scouts and other designated youth groups. Marshall ISD does not discriminate on the basis of race, color, national origin, sex, handicap, or age in its employment practices as required by Title VI of the Civil Rights Act of 1964, as amended; Title IX of the Education Amendments of 1972; the Age Discrimination Act of 1975, as amended; and Section 504 of the Rehabilitation Act of 1973, as amended.
Marshall ISD will take steps to assure that lack of English language skills will not be a barrier to admission and participation in all programs, services, or activities.
The following people are designated to handle inquiries regarding the nondiscrimination policies: Title IX Coordinator, Tina Best-Jolly at best-jollyta@marshallisd.com or call 903-927-8700 ext 1019 and/or Section 504 Coordinator, Elissha Monsivais at monsivaisen@marshallisd.com or call 903 927 8700 ext. 1055